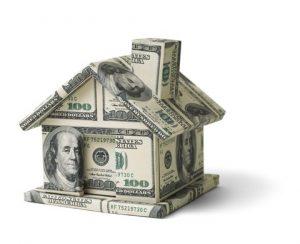 Vacation Rental Management
Working for You:
Let us help take the stress out of renting your home. Our primary focus is on making your property earn the maximum income for you while keeping it in top notch condition so it continues to grow in value for you.
Income Management and Marketing
We look at your income goals for the year as a whole and work out a price that doesn't just look good on the surface, but actually produces those results. We're more than just summer rentals. Many of our homes are rented every weekend from April to
October. We offer online bookings by V/MC/Disc. and have an after-hours inquiry response system so you never miss a possible rental just because its after 5pm. We've been in the vacation rental business for over 25 years. We've seen it all and tried it all. We've learned what works and what doesn't. Let us share that knowledge with you and help you maximize your home's potential.
Protecting Your Investment
We want to meet and exceed your income goals as well as make sure your home stays in the best possible condition and continues to look great year after year. We inspect your home before Memorial Day, to find any last minute issues and prevent them from becoming problems in the summer, as well as following Labor Day so you know what needs to be followed up on during the winter. We report any maintenance issues found by our cleaners, inspectors, or office staff to you by email so you can schedule the repairs or have us handle them for you. Our office takes care of your rental with the same care and involvement as if it were our own home.
Our History
The company began in 1992. Our broker had investment property of her own as well as a budding real estate business, but her customers had nowhere to stay when they wanted to look at SML properties. At that time, there was only one small property management company and they only managed homes near the state park, so Pat Bailey decided to start one of her own, giving us one of our strongest assets – experience as both a Property Owner as well as a Property Manager.
Contact us today to get a personalized rental projection of what your property could earn for you!
Owning a rental property can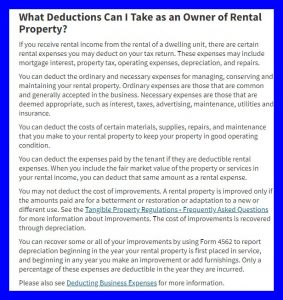 give you some pretty sweet tax breaks like mortgage interest deductions and depreciation while giving you some extra income in your bank account. Plus you can use your home for your own family vacation, as long as certain criteria are met. Here is a screenshot of the IRS website regarding rental home deductions.
Of course, we're property managers, not CPAs or tax advisers, so you'll need to make sure to consult yours to see how your personal situation can benefit from owning a rental home.
Common questions you may have
What do we charge in commission?
22% is our first year rate for new vacation rentals. If we get a "long term winter rental" for a period of 3 months or more, then that amount is reduced to 15% for that rental.
What do we do for that commission?
There are a lot of things that go into making sure your rental is ready and things go smoothly. We take pictures of the home, shoot a free virtual tour of the home, list it online, take reservations, accept credit cards, handle all the accounting, pay state sales tax, pay local occupancy tax, prepare your 1099, pay out any bills you may have incurred from your escrow account, arrange for services and repairs, arrange for cleaning and inspection of your unit after each rental, list your home on VRBO / HomeAway, take after hours emergency calls, send you annual home inspection reports, email comments from cleaners and renters, and personally take care of any renter's concerns or questions. Summer of 2017 and 2018 we boasted a 93% occupancy rate. We don't just promise results, we deliver!
Are there any "hidden fees"?
We charge $25 to put a lockbox on your home, that you own, should you ever leave the rental program. We provide the initial photo shoot free of charge; however, if you make big changes to your home and want the tour reshot, there is a $125 reshooting fee. If you leave light bulbs and a/c filters in your home, the cleaners will change them for $5 per bulb/filter when needed if you wish. (This ultimately saves you money in the long run from expensive a/c repair and maintenance calls). We will list your home on VRBO/HomeAway at the current rate offered by those websites.
Do we provide maintenance?
No, we do not provide maintenance or lawn care, but we will happily arrange these for you and deduct the cost from your rental proceeds upon request.
What do we require from our owners?
Utilities – Electricity and cable or satellite (or digital antennae) and water are required. Internet helps boost rentals, but we do not require it. Phone service is not required.
House furnishings – we have prepared a full list of Unit Requirements
to make sure you get everything you need while shopping.
Communication – anytime you will be using your house, we need to know so we don't book a rental in your home while its occupied. This can be done by phone, email or at the Owner Login on our website.
Upkeep of your home – You should plan on reinvesting one full summer week's rent back into your home annually. This will keep it looking great and producing more income, year after year.
A common goal – The needs of each owner are different so let's discuss your personal goal for your property and work together to make it happen.
If you would like any further information on our rental program or would like us to forward you an Owner's Packet, just let us know. Rest assured, we will be here for you every step of the way!!!
How do we handle unexpected problems?
There are many items that need repairing at any given time. Just think of your own home: a toilet runs constantly; a storm trips the kitchen breaker; your a/c or water filters need changing. At your own home, you likely handle these items as they come up but surely don't want to drive 200 miles for a 5 minute fix, nor do you want to be overcharged by a handyman. We're experts at handling problems that routinely arise. We anticipate and avoid recurring problems through preventive maintenance with a network of vendors who respond faster to us, and with less expense, than they would to an individual because we send them so much business. We know how to avoid petty maintenance calls that could end up costing you big bucks We keep backup cleaners on call because we have enough homes to keep them busy. Not only do we routinely inspect your home, but our cleaners also serve as our eyes and ears, alerting us of any potential problems before they become larger. We give our renters and owners access to us 24 hours a day, 365 days a year, with an emergency contact number, in case any major issues arise. You can feel confident that your home is well cared for around the clock.
Do you take credit cards?
We take Visa, MasterCard, Discover, and check by phone. We require a non-refundable 50% deposit at the time of booking, ensuring fewer cancellations, and more income for our owners.
Who collects and pays the taxes?
No one enjoys dealing with the tax man. CB Sales & Rentals, Inc. relieves the homeowner of collecting the taxes. We charge these to the renters, and pay them monthly to the county and state. We send you a 1099 for your rental income too.
How do we advertise?
Our mailing list contains over 15,000 customers. Our email database contains over 10,000 potential clients who have inquired or reserved with our company over the past 15 years. We are members of the SML Chamber of Commerce and share their lists. We have alligned ourselves with area boat rental companies and share their lists as well. Our website consistently places in the top 3 positions on Google. We advertise on Craig's List, Oodle, Trulia, HomeAway, VRBO, Facebook, and many other sites. All of these venues are used to get your property seen and ultimately, to get your home booked as many weeks as possible.
What's our motivation?
We only make money when you make money. Our job is commission based, therefore, we have some serious motivation to work hard to book your home as much as possible. But, we also like our time away from work to be trouble free, so we screen our tenants to make sure we only put quality renters in your home so we don't get after hours calls about disruptive renters.
Owner Login?
You can access your reservation calendar on our website 24/7. From here, you can also view income reports, dates booked, and make reservations for your own personal use dates anytime its convenient for you, day or night.
How do I know when my home is rented?
When a reservation is made on your property, you are notified immediately by email. Each month you receive a detailed statement of expenses and income. At year end, you receive a 1099 which makes income reporting a breeze.
The Bottom Line
CB Sales & Rentals has been in business since 1992. We have learned through experience what works and what doesn't. Many of our renters have been with us from day one because we treat them like friends and welcome them back every year. We only represent quality homes because they attract quality renters. Our goal is to make vacation rental home ownership a pleasant experience, earning top dollar for your property, while at the same time, ensuring your property stays in top notch condition and continues to increase in value.