The Lake is best experienced from the water. From leisurely pontoon boats to jet skis or fishing charters, Here are some Smith Mountain Lake Boat Rentals: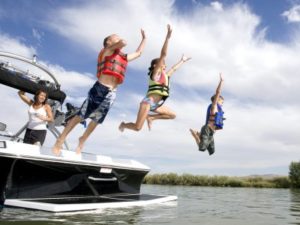 EastLake Boat Rentals: Bouy C2-C3 540-296-4450 15844 SML Pkwy, Huddleston, VA 24104
Westlake Boat Rentals: R37 2050 Morewood Rd, Hardy, VA 24101 540) 721-1159
Halesford Harbour Boat Rentals: (Previous Camper's Paradise site) Located at R29, Ski boats, runabouts, pontoons, skis, tubes, wakeboards, kayaks, canoes.
Bridgewater Marina: Located at R28, large selection of jet skis, pontoons, fishing boats, and runabouts. 540-721-1639
Parrot Cove: Located at R28, Houseboats, pontoons, runabouts and jet skis
Captain's Quarters: R28, Ski boats, pontoons, jet skis. 540-721-1175
Mitchell's Point: Located at R2 or by road at the end of 734. 540-484-3980
Saunder's Parkway Marina: Located at R6 by water, at the end of 626 by road. Pontoon Rentals 540-297-4412
Bridgewater Marina, State Park Location: Located by buoy R19 conveniently located right on the beach in the Smith Mountain Lake State Park and features some of the most beautiful scenery on the lake. • Open Memorial Day through Labor Day Weekend-7 days a week 10 am to 6pm. 540.297.3642
Bridgewater Marina, Bernard's Landing Location: Bernard's Boat Rental will help you make the most of your cruising adventure. We are conveniently located at beautiful Bernard's Landing below the check-in center 540-721-7800
SML Dock: Penhook Area. 188 Locust Ln, Penhook, VA 24137 Phone: (540) 565-0222.  Home of the Pet Carp, feed them popcorn or smother your toes with peanut butter for a crazy fun experience for the kids. Between B1 and R6 buoy.  
Charters
Why Knot Boat SML – 540-692-6311

We don't rent boats, we provide adventures. While you're planning your vacation to SML book a a trip with why knot. Our captain provides a turn key, fun, exciting, stress free, memorable day on the lake.  We provide servives ranging from 2 hours to a full 8 hour day!  Click the link to learn more or call 540-692-6311

Captain Austin
Why Knot Boat With Us
Safe Boating
Here are some things to remember when you are on the water that will keep you safe and make your lake experience much more enjoyable.
Please be safe when boating, jet-skiing, and kayaking.
Know your limits and drive the boat at a safe speed.
Be respectful of other boaters and ALWAYS, ALWAYS, ALWAYS boat to the right side of the channel.
Obey posted signs and know how to read them. All numbered markers should be kept to the driver's right side. Going between the markers and land can result in a damaged prop or an accident. Pay attention to shoal markers which indicate very shallow water.
Use extreme caution when pulling a tuber, skier, etc. Be aware of traffic all around you. Avoid towing anyone in the main channel where traffic is very heavy and accidents can occur quickly.
When towing a person, always have a spotter watching the person being towed and the driver watching for other boats.
Don't boat too closely to other boats, even when passing or crossing the channel.
Respect no wake signs and drive your boat at the lowest possible speed in order to maintain steering ability. Do not create a wake.
No wake is allowed within 50 feet of docks, shore, or in areas labeled "No Wake", from bouy to bouy.
The lake is "different" at night and even the most experienced boaters are more cautious after dark.
Run your lights from dusk to dawn.
Alcohol and boating don't mix well. 0.08 is the legal blood alcohol limit on the water.
Everyone under 13 is required by law to wear a life vest when the boat is moving.
Be respectful of our lake and keep it clean. Pick up trash behind your group and try to leave things a little better than you found them.
It is illegal to feed birds, ducks, geese, or any waterfowl within 500 feet of the lake. Their "waste" causes harmful bacteria in our water and can result in renters and residents getting sick, beaches shutting down, and of course, docks being covered in… well, you know.
Have fun and be safe!