FUN IDEAS AND THINGS TO DO AT SMITH MOUNTAIN LAKE
The Lake is best experienced from the water. From leisurely pontoon boats to jet skis or fishing charters, Here are some Smith Mountain Lake Boat Rentals:
Halesford Harbour Boat Rentals: (Previous Camper's Paradise site) Located at R29, Ski boats, runabouts, pontoons, skis, tubes, wakeboards, kayaks, canoes. 540-797-6258
Bridgewater Marina: Located at R28, large selection of jet skis, pontoons, fishing boats, and ru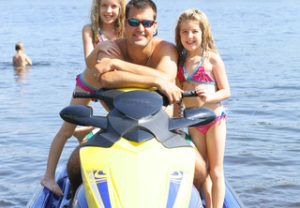 nabouts. 540-721-1639
Parrot Cove: Located at R28, Houseboats, pontoons, runabouts and jet skis
Captain's Quarters: Located at R28, Ski boats, pontoons, jet skis. 540-721-1175
Mitchell's Point: Located at R2 or by road at the end of 734.
540-484-3980
Saunder's Parkway Marina: Located at R6 by water, at the end of 626 by road. Pontoon Rentals 540-297-4412
Bridgewater Marina, State Park Location: Located by bouy R19 conveniently located right on the beach in the Smith Mountain Lake State Park and features some of the most beautiful scenary on the lake. • Open Memorial Day through Labor Day Weekend-7 days a week 10 am to 6pm. 540.297.3642
Bridgewater Marina, Bernard's Landing Location: Bernard's Boat Rental will help you make the most of your cruising adventure. We are conveniently located at beautiful Bernard's Landing below the check-in center 540-721-7800
Smith Mountain Boat Rentals:
Penhook Area.
Address:
184 Locust Ln, Penhook, VA 24137
Phone:
(540) 915-6569
Fun things to do:
1. Bring the kids out to Bridgewater Plaza. The plaza offers tons of fun, from mini-golf, an arcade, Pizza Pub, rock climbing wall, ring toss, and basketball shoot. You can buy popcorn from Bridgewater Marina to feed the huge carp. For the adults, there is a gift shop, lots of boutiques and an art gallery. Bridgewater Plaza is also home to Chopsticks Chinese Restaurant, Moosie's Sports Bar and Grill, and the famous Mango's where live bands play all weekend during the summer. They also have karaoke and cornhole tournaments! Don't forget to stop by the SML Visitor Center while you're there to pick up the latest attraction brochures, a free Laker Map and get more info about approaching lake events.
2. Take a cruise on the Virginia Dare. Enjoy a relaxing cruise aboard SML's 63-foot sightseeing cruise boat with enclosed main deck and open-air seating topside. Lunch, dinner and specialty cruises are available. Call 297-7100 in advance to make your reservation.
3. Check out a nearby winery. Virginia wines wonderful! Take a tour of one: Brooks Mill Winery, Hickory Hill Vineyards, Leo Grande Vineyards, Peaks of Otter Winery & Orchards, Ramulose Ridge Vineyards, Savoy-Lee Winery, Tomahawk Mill Winery or White Rock Vineyards and Winery.
4. Rent a boat. There are tons of local marina that offer rentals of jetskis, pontoons, and ski boats for the day, or for the week. SML is best seen by water!
5. Pamper yourself with a Spa Day. SML Spa offers massages, spa packages, aromatherapy, facials, and much more. 540-719-0025

6. Spend a Saturday morning at the Westlake Farmers' Market. An open-air market that offers vegetables, fruits, eggs, jams and jellies, herbs and more takes place each Saturday from 9 a.m. to 1 p.m. at Westlake Corner (adjacent to Lake Inn) Rocky Mount and Bedford also offer larger farmers' markets.
7. Have an island picnic. Many of the islands at SML have sandy beaches where you can stop to swim and picnic. Don't forget to take along trash bags so you can leave the area pristine. Of course, respect private-property postings.
8. Learn to Wake Board. Wake Up is your place at SML to try wakebaording, wakesurfing, or wakeskating for the first time or learn techniques and drills to help you improve your skills. Their knowledgeable and energetic instructors are ready to show you a good time! (434) 466-8674
9. Parasail: Check out the lake from the sky. Beautiful scenery from a completely thrilling vantage point. (540) 297-8481
10. Learn to sail. Captain Pete Phillip will show aspiring sailors the ropes during on-water outings tailored to their interest and experience. Call 719-0009 for info and to book lessons or a participatory half-day charter for groups of up to four. Find more details at smithmountainlakesailing.com.
11. Try paddleboarding. This popular new sport is like balancing on a big surfboard while working the abs and exploring the coves. Rental locations include SML Boat Rentals at Mitchell's Point Marina, Smith Mountain Wake Company and Bridgewater Marina (with additional locations at Bernard's Landing and SML State Park).
12. Spend a day at the beach at Smith Mountain Lake Community Park or SML State Park. Lifeguards on duty at the white sand beaches. Open daily until dusk.
13. Boat to a restaurant. Any of SML's 19 waterfront eateries make a great boat-trip destination.
14. Play mini golf. Three different styles are available in the lake area – Harbortown Mini Golf at Bridgewater Plaza, Hot Shots and Westlake Safari Mini Golf at Westlake.
15. Take in a movie at the Westlake Cinema. Check www.westlakecinema.com for show times.
16. Feed the fish. Stop by Bridgewater Plaza or Smith Mountain Dock and Lodge and feed the pet carp.
17. Go horseback riding. Smith Mountain Farm & Stables in nearby Sandy Level offers scenic trail rides for riders of all abilities. Age and weight restrictions apply. Rental cottages and skeet shooting also are available. (434) 927-5199

18. Fish with a guide and then chow down on your catch. Catch 'em, grill 'em and eat 'em. Striper makes a delicious meal. A professional fishing guide will teach you how to catch them and usually filet them for you.
19. Visit an alpaca farm or retail store to learn about these cute, intriguing animals. Take photos and shop for clothing and novelties made of alpaca fiber. The SML region has a number of area operations to choose from, including Alpaca By Jaca (store only), Alpacas of Smith Mountain Lake Farm & Gifts, Peaks of Otter Alpacas, Pacabella Farm Alpacas, Dreamland Farm and A Goode View Alpaca Farm.
20. Take a nature walk at SML State Park. There are several pleasant and easy walks, many with water views. The park also offers boating, swimming, fishing, hunting and camping. Open daily, 8 a.m. to dusk.

21. Visit the birthplace of Booker T. Washington. Located on Virginia 122 just south of Westlake, this park has scenic walking trails and a variety of educational events throughout the season.
22. Visit the Smith Mountain Dam. Learn how electricity is generated, catch the movie in the mini-theater and try the hands-on displays that help kids and adults grasp the size and scope of electrical concepts at the remodeled Vipperman Center. Afterward, enjoy the picnic area and overlook. The visitor center is open daily from 9 a.m. to 5 p.m. The exhibits and overlook area close at 4:30.
23. Honor our soldiers at the National D-Day Memorial. Visit the memorial in Bedford to recognize the valor and sacrifice of the Allied Armed Forces on D-Day (June 6, 1944). The memorial is open daily from 10 a.m. to 5 p.m. Visitors are asked to check in at the nearby Bedford Area Welcome Center. dday.org
24. Enjoy the nightlife. Mangos Bar & Grill at Bridgewater Plaza has live music on weekends all summer long. Blackwater Café hosts live jazz on the third Thursday of each month. Hot Shots hosts open mic night every Thursday. Waller's Waterfront has live entertainment as well.